"A wise and practical journey through some of the hardest conversations you will ever have in your life."
Have you started picking up groceries for your aging parents while doing your own shopping? Do you go to the doctor with your loved one to be the second set of ears? Does the hair on the back of your neck stand up when you're on the phone with mom, because you feel she is unsafe?
Too often, says author Debra Hallisey, we ignore these and other warning signs that our parent or other loved one needs assistance until an event such as a fall or a hospital stay no longer allows us to bury our heads in the sand. Without knowing what to expect as a caregiver, it is difficult to adjust to this caregiver role.
In this book, Hallisey discusses how caregiving changes the everyday lives of the caree, the caregiver, and their circle of loved ones. She uses examples from her own life, as well as many of her clients, to help you work through your elderly parents' expectations, how to set caregiver boundaries, the need to structure hard conversations with mom and dad, and how to pull together a support network for caregiver self-care.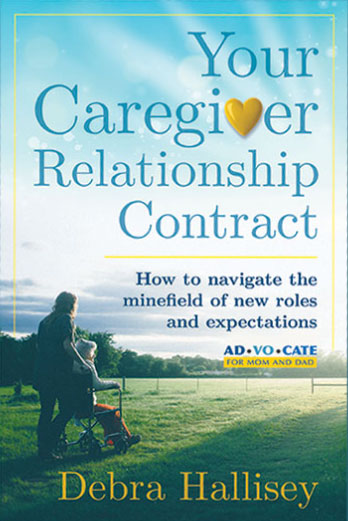 This is the book every person with aging parents needs to read
Caregiving is more than just a series of tasks to keep your loved one safe. Debra Hallisey takes us on a wise and practical journey through some of the hardest conversations you will ever have in your life. She uses her experience to show us the importance of truly connecting, while always showing your parents the respect they deserve. Deb's personal caregiving experiences help others to freely discuss their expectations and teach them to set boundaries in their caregiving relationship. This is the book every person with aging parents needs to read, in a perfect world, before the crisis hits. This is the book that will bring shed some light on the darkest of days and will help you create the caregiver contract that will restore the quality of life that you and your loved one both need and provide clarity and insight to your caregiving relationship.
Sheli Monacchio, President
The Caring Connections of New Jersey
Find out what you need before you need it!
This book is a wonderful guide through a difficult maze of parent-child-parent relationships. Through organized lists and informational anecdotes, Ms. Hallisey acquaints the reader with the necessary considerations when taking on the care of a loved one. Everyone with a parent should read this, and every parent should gift their child with a copy!
Susan R. Ferraro
Practical guide to gain clarity and control
In Your Caregiver Relationship Contract, author Debra Hallisey provides first-hand knowledge as a caregiver and certified caregiver consultant, offering a practical approach through real-life experience of her own and her clients. She does this through an insightful exploration of expectations, communication and negotiation techniques, developing a support network, and offering 'permission' for self-care. In doing so, Ms. Hallisey provides an easy to follow formula to "remove the noise", get things in order and develop a manageable system to gain control. This book is thought-provoking, heartfelt and honest. It's a handbook on empowerment - a must for all caregivers and anyone who works with them.
Amazon Customer
Thoughtful and inspiring, a book for both caregivers and professionals
In her book, Your Caregiver Relationship Contract, Deb shares her story and what she has learned as her mother's caregiver with honesty and clarity. This book has clear, real life examples of the successes and frustrations of caregiving, as well as the joys. Valuable information and insights are offered to guide us through difficult conversations, asking for help and dealing with emotions. Deb outlines the importance of respectfully including our parents in the decision-making process, starting with not "parenting our parent's. All of which can lead to a smoother path as you make important decisions together, thereby honoring their dignity and self- determination. In this book Deb shows how caregiving can be a time of shared joy and result in a more satisfying, supportive relationship based on mutual respect. Deb's life-giving approach with her own mother can help us to honor our role as a caregiver, while reminding us the importance of nurturing ourselves along the way.  
Hillary Murray, Director of Community Relations
Brandywine Living at Pennington
Caregiver insights with clarity and practical skill building
Debra's book helps us all reflect on the caregiving journey we have been on or the one just perhaps on our horizon. She skillfully defines the caregiver 'dance' in a way that brings clarity and insights in a time that is often confusing. The book is Infused with Therapeutic wisdom and practical exercises that will help you build a stronger caregiver 'tool kit'.
Annette Murphy, MSW,LSW, Director of Home Care and Care Management
Springpoint at Home
A book that belongs in every family's library
Deb gets to the heart of caregiving and helps you make sense of a super confusing and emotional experience that we often find ourselves unprepared for. If you aren't caring yet, get this book. It will help you look at caregiving in through a completely new lens. Deb lays out the negative emotions and experiences we encounter on our caregiving journey and not just accept them, but learn from them. She shares practical advice for building a circle of support, asking for help, establishing boundaries, and practicing self-care. Throughout the book I found myself wishing I'd had this book long ago, before I began caring for my own grandmother.
Rachel Hiles
Taking Care of Grandma
Beautiful and insightful
This is a beautifully and thoughtfully written book. The idea of a caregiver relationship contract is genius and helps the reader to understand that what's happening really is a sort of contract, and that both people can work together to make that relationship easier even in the face of life-changing circumstances. I learned that not everything is about banking or financial – you also need to know who your loved one's favorite plumber and handyman, which are things people never think of. There were great tips on not parenting your parent and how to broach conversations that may be very tough for the person who is losing their independence. Caregivers go through so many emotions and the author shares that it's normal to have feelings of guilt, fear, anger, etc and this doesn't make them a bad person. The reader comes away realizing that there are positive and constructive ways to work through these feelings and care for themselves as well as their loved one.
Danielle L. Kunkle
Boomer Benefits
This is a courageous book
Courageous because author Debra Hallisey shares deeply personal feelings and encounters in her own caregiving journey. I applaud her for that and predict many readers will identify with – and be helped by – her experiences. Her candor alone would have been enough. Hallisey could have stopped there and this would have been a great book. She didn't stop, however. She went beyond personal stories to provide readers with a variety of useful tips and tricks. This is the sort of "guide" that everyone who needs care that those that provide it will return often. Share it with someone you love.
Glenna Crooke, Ph.D.
The Network Sage: Realize Your Network Superpower