"Deb walks us through the maze of caring for someone with Dementia, gently but firmly guiding us to being the best caregiver we can be based on her own experiences, strength and hope. "
There is no set of "directions" for caring for a person with Alzheimer's, or a related dementia disorder, each caregiving journey is unique and will be in a constant state of change as the disease progresses. However, having a start point in preparing for and going along this journey helps to create a lasting partnership with the person you care for, the care team you build along the way and may come to rely upon throughout the caregiving journey.
When Debra first asked if I would help to consult on this book, I didn't hesitate for one moment to say yes. In getting to know Debra over the past several years I have seen, firsthand, the passion, empathy, and dedication she puts into everything she does both as a professional and as an adult child overseeing the care of her mother.
This book makes the reader feel as though you are talking to an old friend who is speaking from the heart and pulling no punches, helping to guide you through one of the most challenging journeys you will ever embark on. A Relationship Contract for Dementia Caregivers provides the reader with practical knowledge and necessary steps at each stage of the disease, to continuously adapt your practices and expectations to meet the needs of the person you care for and, more importantly, your own needs as the disease progresses.
The theme that runs throughout this book is that caregiving changes your relationships and taking care of yourself, as the caregiver, is not a luxury it is a necessity. If you don't take care of yourself, then you can't oversee the care of the person with a progressive brain disease.
Amy Matthews, LLC
Dementia Educator and Consultant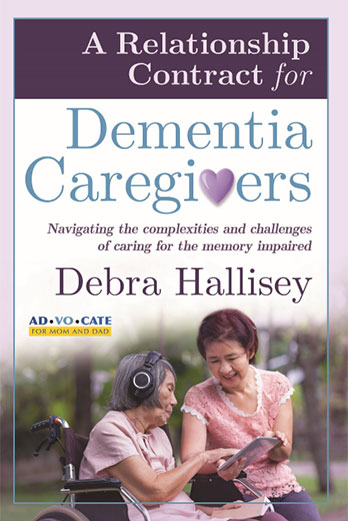 This book is a must have companion for anyone caring for a loved one or patient with Dementia. Every aspect of the extraordinary challenge of being a caregiver is so clearly explained and acknowledged, and some of the best solutions, strategies and answers are found in these pages. Deb walks us through the maze of caring for someone with Dementia, gently but firmly guiding us to being the best caregiver we can be based on her own experiences, strength and hope. There is no one better to take with us as our guide. The book helps us feel less alone, more prepared and certainly more aligned with those we love and care for.
Susanne White
Caregiver Warrior
Debra's book is an easily accessible tool for caregivers looking for an validation of their communication challenges. Examples are given in a way that provides a framework to understand new ways of communicating with our loved ones. Deb's keen observations and support of many caregivers have given her the heart and knowledge to present her unique perspective on the topic"
Annette Murphy, MSW,LSW, C-ASWCM
Aging Life Care™ Advisor Director,  Home Care &Care Management for Springpoint at Home
Co-PRESIDENT, New Jersey Chapter, Aging Life Care Association®  
This book is an important contribution to our understanding of the emotional demands of being an Alzheimer's caregiver which are all-encompassing and increase over time as the disease progresses. Little acts can make a big difference. Caring for someone with Alzheimer's or another dementia is exceptionally demanding, and especially challenging. This book provides ideas to encourage people to lend a hand to a caregiver, understand the importance of effect-ive communications, gives us permission for relationships restructuring through contacts and tools for person-centered care approaches.
How to help an Alzheimer's Caregiver is a learned responsibility. Offering caregivers a reprieve is…often a welcome gift. Even one hour can provide the caregiver with the reprieve they need to reset. It is important for family and friends to see the common signs of caregiver stress, denial, anger, social withdrawal and isolation, anxiety, depression, exhaustion, and self-health problems. This book is an important contribution to our toolbox of resources for families and ourselves and we all need the encouragement and boundaries provided to enable us to cope with the tremendous responsibility of a caregiver. 
Thank you for providing an understanding of Alzheimer's caregiving and writing another real-life contribution to our everyday work and mission.   
Robyn Kohn, MA, CDP, CMDCP Caregiver, HealthCare and Dementia Educator
Director of Programs and Services, Alzheimer's Association 
In her wise and comforting book, A Relationship Contract for Dementia Caregivers, Debra reminds us that a dementia diagnosis cannot change our most human desire to connect with and relate to each other. She shares practical tools and helpful strategies to ease our worries that a family member's dementia diagnosis will rob us of our relationship. Instead, we can implement Deb's ideas so that we can continue to connect in meaningful and heartfelt ways.
Denise M. Brown
Founder, The Caregiving Years Training Academy
Once again, Deb captures the most basic and deepest challenges that a caregiver may face and makes brilliant recommendations to overcome each one in a step-by-step manner. With a focus on dementia, Deb paints a colorful roadmap for a caregiver to follow. Our loved ones with dementia are not always capable of setting the boundaries in the same manner that we are. Deb breaks it down beautifully to be sure the caregiver can still help their loved one set personal boundaries within their own processing ability. She also continues to guide the caregiver to learn to set their own boundaries and practice self-care all while providing the best care for their loved one.
Sheli Monacchio, CDP, HSAC, ADLS
Senior Vice President of  Business Development
Angelion Mobility